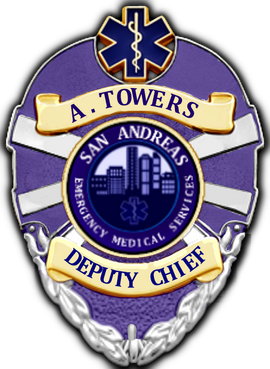 Introduction
[
]
Alex Towers is a triathlete and the Deputy Chief of the San Andreas Emergency Medical Services.
Biography
[
]
Alex grew up in Hampshire, England and spent much of his time training for and competing in triathlons while working at a local gym. His triathlons took him all over Europe but he had never ventured across 'the pond' until he competed in Hawaii at the Ironman World Championship.
Los Santos
[
]
Alex had always considered visiting America and Los Santos, with its warm weather and the health-conscious culture, but after the trip to Hawaii it became much more appealing. A fellow triathlete told Alex to head over to Los Santos for an upcoming triathlon. He packed his bags and packaged his bike up for the trip over, but arrived with no bike, clothes, or money after the airline lost his belongings. Nothing came of that triathlon, either.
Trying to at least give Los Santos a chance he took odd jobs delivering for GoPostal and the local trucking company, staying in a motel near the beach to take advantage of the water and cycle routes. Alex set up the Tri-Hard Lifestyle Company as an organisation to run events and provide fitness training to the people of San Andreas but had to dissolve the company when he joined the SAEMS.
While visiting Pillbox Medical Center Alex bumped into Dustin Morrow and the two began chatting about triathlons and life as a Paramedic. Dustin mentioned that the state was taking applications for the role and Alex decided to apply.
Alex frequently visited Pillbox Medical Center to stock up on bottles of water and first aid supplies for hiking and cycling and became good friends with Tabitha Wrenn, a Doctor at the time. Dr. Wrenn would often accompany Alex in his truck while she filled out paperwork and they would chat about working as Paramedics. The two attended the same academy and can often be found on and off duty together.
San Andreas EMS
[
]
Alex was hired by the San Andreas Emergency Medical Services as a Probationary Paramedic on the 6th November 2019 and was promoted to a full Paramedic on the 17th December 2019. Towers' primary FTO was Charlie Bird and the pair quickly formed a strong working relationship during his academy, which continues to this day, although the two are now also close friends.
Promotions
[
]
Hired by SAEMS - 06 November 2019
SAEMS Academy - 17 November 2019
Promotion to Paramedic - 18 December 2019
Field Training Officer Certification - 11 March 2020
Promotion to Adv. Paramedic - 23 April 2020
Promotion to Lieutenant - 08 May 2020
Air Search & Rescue Certification - 12 May 2020
Promotion to Deputy Chief - 27 September 2020