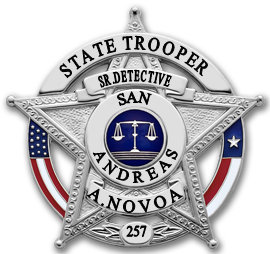 Introduction
[
]
Alice Novoa was a Senior Trooper with the San Andreas State Police. She is best known for being homeless and driving around an RV.
Biography
[
]
Alice was born and raised in Los Santos and has been homeless for the better part of her adult life. She graduated college with a degree in veterinary science and wanted to be a veterinarian, but there were no open jobs for one in the city. Eventually, she tried to start a driving school and was given a grant by the government to do so. She also got it signed off on by Trooper Eli Thompson. However, when the city repossessed most of everyone's belongings, she lost both her grant and her RV home. She has not since tried to restart the driving school.
Since returning back to the city after a break, Alice has applied and been accepted to the State Police academy. She passed the academy along with Cadet White and Parker. On July 3rd, 2018 she was promoted to a full trooper. On August 12, 2018, she and the director had a conversation about the new cadets and how they are doing on the field. Director Dazzler promoted her to Senior Trooper and FTO status. On September 20, 2018 she was accepted into the MCU and held the Senior Detective rank. The MCU was dissolved on November 11, 2018 and Novoa was transferred to Squad 1 and returned to the rank of Senior Trooper.
She enjoys taking selfies and often takes one to remember a moment she found to be particularly special.
Relationships
[
]
For a brief time in 2017, Alice dated Gordie Whitman. They broke up after both left the city for a while. Since then, Alice has expressed an interest in both men and women.
Alice also had a strong friendship with Lang Buddha before he became a part of the Leanbois. After Lang started running with Avonn Barksdale, she never saw him again. She wholly resents the Leanbois for corrupting Lang and stealing a friend away from her. She has now joined the State Troopers to make sure that never happens to anyone else ever again.
Recently Alice has started posting anonymous ad's advertising an anonymous texting service where she posts her phone number in order to have conversations with strangers under the alias "spice". This anonymous texting service started because as a trooper nobody wants to talk to Alice but, thanks to this service everybody wants to talk to her.
As of January 11th 2019 Alice Novoa officially resigned from the SASP.
Gallery
[
]