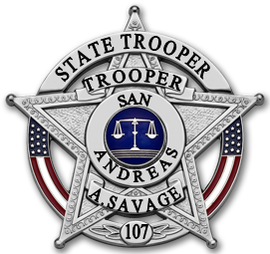 Introduction
Alison Savage, also known as Allie, is Bucky Savage's older sister and Annie Savage's sister-in-law. Allie has worked for many different Police Departments in the past and for a time worked for the San Andreas State Police department alongside her brother.
Biography
Allie was promoted to full trooper on December 8, 2018.
On December 12, 2018, Trooper Savage, Senior Trooper White, Cadet Nexus, and Trooper Myers attempted to arrest Courtney Westover. Westover pulled a weapon, and the troopers on-scene returned fire. Unfortunately, Tidus Martel and Alexis Freeman were behind her, and were caught in Savage's crossfire. Following that, she was placed on administrative leave while the shooting is investigated.
She learned the results of the investigation on December 15, 2018, when she was told she would have to redo the firearms portion of academy and potentially do more time as a cadet. However, due to the stress of the event and the guilt of not seeing Tidus and Alexis behind Westover, she was placed on an indefinite LOA until she could cope. Allie sent out various "goodbye" texts, bought a ticket back to Lakeside, and went to Bahama Mamas. Eddie Concord, Rhona Murray, and Anita Drenc all kept her company after the bar closed. She then registered Cadet Bishop to her condo so he could take care of it while she was gone and transferred two vehicles she had borrowed from Senior Trooper Leonard so they could be returned to him. She had Bishop drive her around and said a few in-person goodbyes before finally being dropped off at the airport for her flight.
Following a mental evaluation with Zoey Lyrais and a firearms requalification with Lieutenant Holtz, Allie was reinstated as a cadet of the SASP on January 28, 2019 and was brought back to the rank of Trooper on February 24, 2019.
On April 1, 2019 Allie resigned from the SASP.
On July 19th 2020, Allie returned to the city and Immediately went on a ride along with her good friend Daniel Bishop to catch up and talked about the possibility of her returning to the force.