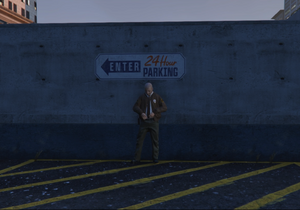 Introduction
[
]
Owner and Security Guard at Bernie's Parking LLC. Possibly crazy or possibly had early onset dementia.
Biography
[
]
Bernie Sandusky was born in 1931, when he was 6 years old his Father bought the land for the Parking Lot, which is now known as Bernie's Parking LLC. 80 Years later at the Ripe age of 86, Mr. Sandusky was handed the rights to the Parking Lot after, sadly, his Father passed away. All the money that comes from the Parking Lot goes to his Medical Bills and his Abused Alcoholic Daughter, Rachael.
As of 29 July, 2017, Mr. Sandusky was in a coma following a massive heart attack while driving in traffic with his employee Al Saab to a Customer Appreciation Day party which was to be held by his company for recent parking lot customers.
Bernie Sandusky sadly passed away on 8/1/2017