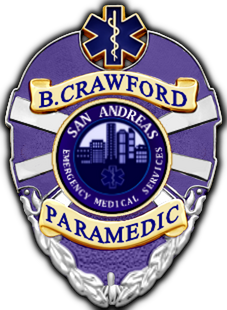 Introduction
[
]
Brandilynn Crawford is a paramedic for the San Andreas Emergency Medical Services.
Biography
[
]
Brandilynn was raised by her father as her mother died during her birth. She has worked in a veterinary clinic as well as a local bar in her past. She moved to Los Santos to pursue her career in emergency medicine. She has really opened up to one person in LS, keeping her past a secret to most.
On April 30th, Brandilynn passed her FTO stage of training to become a full paramedic, taking up the call sign EMS-19.