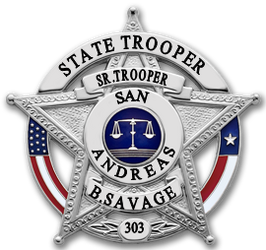 Introduction
Edit
Bucky Savage, better known as Sr.Trooper Savage, is the former Sheriff of the BCSO and current Sr.Trooper in the SASP. He is well regarded for his communication skills and for being one of the best drivers in Los Santos and the SASP.
Biography
Edit
On January 8th, 2018, Savage responded to a shots fired call in the Orchardville and Cypress flats area. He was shot a few times by gang members. He went down and fellow officers and medics responded to the scene. He was conscious when medics arrived but went unconscious, he was immediately transported to Crusade Medical and underwent surgery, he made it through the surgery and was breathing on his own although doctors said he had a lot of internal bleeding and organ damage. He is currently in the ICU. Savage has since recovered from his injuries and is now back on duty with the BCSO.
After the BCSO was defunded and consolidated with the LSPD to form the SASP, Bucky was promoted to Lieutenant along with Mike Bayo due to the restructuring of command.
His Current Rank is Sr.Trooper as of some unforeseen circumstances.