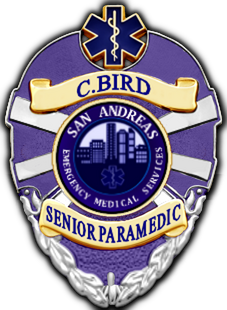 Introduction
Edit
Charlie Bird is the Deputy Chief with the San Andreas Emergency Medical Services.
Biography
Edit
Charlie Bird was born and raised in a small town in Texas. She married young but in 2015 lost her husband in a freak Motor Vehicle accident with a truck while coming home from a football game. The accident had also left her severely Injured and in a medically induced coma. Sometime later Bird awoke and was released from the hospital, Charlie decided to take a year to herself before going to nursing school, so she decided to embark on a road trip to Washington. However when she broke down in San Andreas, fell in love with the county, and after seeing a flyer for the San Andreas Emergency Medical Services she decided to stay.
New City New Life
Edit
Charlie joined the San Andreas Emergency Medical Services and became fast friends with Daniel Bishop and Wesley Thorne. She eventually moved in with Bishop as friends and roommates, but this soon evolved into more. Bird and Bishop often now hang out with fellow cop medic duo Monika Parker and Jay Parker.
Promotions
Edit
On March 4th 2019, Charlie Bird Applied for the SAEMS
On March 27th 2019, Charlie was Hired by the SAEMS
On April 13th 2019, Charlie went through the SAEMS Academy
On July 31st 2019, Charlie was Promoted to Paramedic
In November 2019, Charlie was Promoted to Senior Paramedic and received the FTO Certification
On January 20th 2020, Charlie was Promotion to Lieutenant
On April 18th 2020, Charlie was promoted to Captain
On June 24th 2020, Charlie was promoted to Deputy Chief of EMS
Fun Facts
Edit
Charlie loves Harry Potter, she is a self-chosen Hufflepuff.
She considers marshmallows to be the top of the food pyramid.
She has a twin brother Chance Bird.
She is allergic to bees.
Community content is available under
CC-BY-SA
unless otherwise noted.