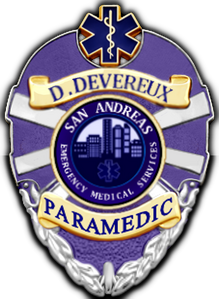 Introduction
[
]
Daren "Dare" Devereux is a paramedic with the San Andreas Emergency Medical Services.
Biography
[
]
Daren graduated from Louisiana State University with a B.S. in Medical Technology before applying to become a part of the SAEMS.
Dare ran as a Medic In San Andreas for a while but after his Cousin Maxine Devereux's Incarceration it became difficult to do his job with the last name of Devereux. A few months after Maxines release Dare made the decision to step down and Leave the City. He went back to New Orleans to open clinics with the help of his Cousins foundation.
The Return
[
]
After a few months in New Orleans Dare decided to return to San Andreas and was welcomed back as a Part-time EMS.