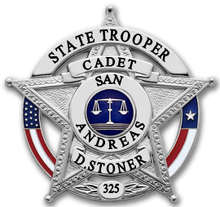 Introduction
Edit
David Stoner is a Cadet for the San Andreas State Police.
Biography
Edit
Originally from Michigan, David served in the military both active and reserves in the U.S. Army. He was Airborne/Infantry on active duty and a reserve Military Police officer. After being discharged from the reserves he decided Michigan didn't cut it anymore... loaded up his meager belongings into his dodge charger and hit the open road. Landing in Los Santos he applied to BCSO to become a sheriff. He was accepted and then pigeonholed until Director Dazzler contacted him and asked if he was still interested in being an LEO and accepted a recruit position with the SASP.
Community content is available under
CC-BY-SA
unless otherwise noted.