Jurassic World: Dominion Dominates Fandom Wikis - The Loop
Play Sound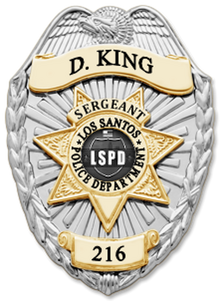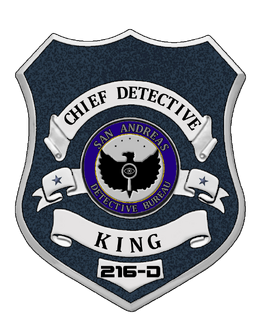 Introduction
[
]
Devin King was a detective for the Los Santos Police Department And Chief Detective for the San Andreas Detective Bureau.
Biography
[
]
Devin King was born and raised in the city of Boston, by his father. His mother died during childbirth.
His father was off and on in Devin's life, and ran his own PMC (Private Military Company). When Devin was a junior in high school, his father was shot and killed overseas. Inheriting a good amount of money, Devin bought a new place in Boston and decided to put himself through university in the city and studied Criminal Law.
While in University Devin kept mostly to himself, though grew close with fellow classmate and friend Heather, eventually forming a relationship. Near the end of his courses at University, Heather vanished out of nowhere after being together for two years.
It is still unknown today (one year later) what had happened and where she went. There were no signs of foul play or any crime, and her parents were not interested in filing a missing persons report. However, she never officially resigned from the school, she simply stopped attending and stopped paying the bills in her apartment.
Devin has mentioned a few times that during his time in college, he shortly dated Wendy Schelier. But the relationship ended when he "accidentally" killed her goldfish. He said that she yelled at him for 2 hours straight over the incident. Wendy is still upset over the matter to this day and gives Devin shit over it every time she sees him.
Career
[
]
Now a year after graduating, Devin King has moved to the state of San Andreas and signed on as a Cadet with the San Andreas State Police, where he hopes to get over the demons of the past and move on. He received a promotion to Trooper on February 24, 2019.
As of July 1st, the San Andreas State Police has split into three separate departments, causing all former troopers to be reassigned to different departments.
King was killed in an explosion on January 20th, 2020