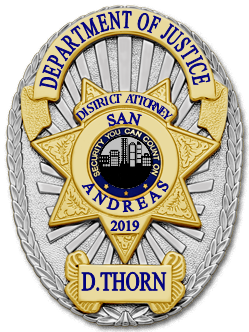 Introduction
[
]
Drake Thorn is a District Attorney for the Los Santos Department of Justice. He is a former (rather unsuccessful) Defense Attorney, who still made his way into the DA's office and was able to prosecute some criminals very successfully already.
Biography
[
]
Drake came to Los Santos somewhere in 2018 trying to set foot as Defense Attorney. Due to the well known lawyers Leon Church and Bishop Kane being able to satisfy the demand already, while being more experienced than Thorn, he was not able to get a decent number of clients on his retainer.
With the third revision of the DOJ in Los Santos, Thorn made his way into the DA's office. In the beginning he was often seen on ride alongs with Officers of the SASP, gaining a lot of experience that way. On his first official day of court as an ADA, he was able to pull through all three cases successfully, one of which with a plea deal before the trial started.