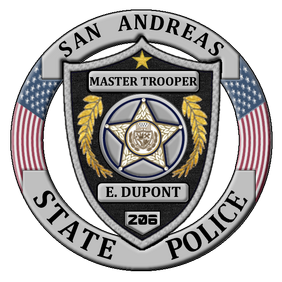 Introduction
[
]
Emma Dupont is a Master Trooper in the San Andreas State Police.
Biography
[
]
Emma Dupont was born and raised in Montreal where she learned both French and English.
Career
[
]
As of July 1st, the San Andreas State Police has split into three separate departments, causing all former troopers to be reassigned to different departments.
Dupont transferred to San Andreas Highway Patrol as of August 19, 2019.