Jurassic World: Dominion Dominates Fandom Wikis - The Loop
Play Sound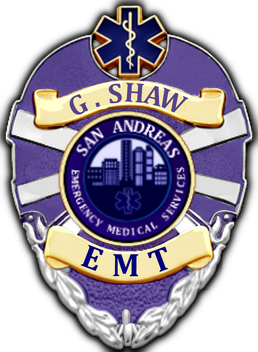 Introduction
[
]
Gracie-Leigh Shaw is the only child of her mother Denise Shaw and an unknown father. Gracie-Leigh is one if the most open minded people that you can meet, typically going heavily out of her way to help others. While afraid of attachment, she is incredibly easy to get along with and can quickly become protective of others when the time calls for it. She is currently an EMT with SAEMS.
Biography
[
]
Back at Home
[
]
Gracie-Leigh was not always an only child. In fact, she had a sister who was 6 years younger than she was, and her name was Charlotte Shaw. They were extremely close, especially considering the fact that Gracie-Leigh was essentially her mother for quite some time. Gracie-Leigh's father left when she was only 4 years old, and Charlotte's father left with a bang, claiming Charlotte to be a mistake and Gracie-Leigh to be a dumb-ass and a failure before leaving, leaving only her mother, Denise. Denise was a single mother that was a paramedic, and she was often out for very late nights or sometimes not being home at all for at least a few days depending on how extreme things were getting on the clock. While it definitely was a heavy weight for Gracie-Leigh, she did her best to find the positives in her environment. She would help her sister study while also ensuring she got some fun towards the end of her days so that way she wasn't overwhelmed with stress, and did her absolute best to give her the best life she could.
Unfortunately, Gracie-Leigh was unaware of how much of a weight their mother's absence was on Charlotte. Not only did she not have a mother or a father to raise her, but she was struggling with her classes and rapidly getting worse with the depression she was struggling with. At this time, Charlotte was 14 and Gracie-Leigh was 20. One morning, Gracie-Leigh tried calling her down for breakfast. When she didn't hear a response, she made her way upstairs to make sure she wasn't sleeping too heavy. When she opened the door, she found a half-empty bottle of pills on her bed, and she was comatose. In a panic, she had no choice but to call 911 in hopes that someone would be able to help her. In the mean time, she was trying to find anyway she could to get her at least awake, knowing that trying to force her to gag without any knowledge on the matter would not help. Her mother was one of the first medics to arrive, and it took everything in her power to remain calm while she tried to stabilize her in the ambulance to the hospital. Charlotte passed away about two hours later due to overdose on June 16th, 2015.
This experience tore down Gracie-Leigh and Denise, but they knew fully well that they needed each other now more than ever. Her mother took a temporary LOA and they spent a few months together trying to get life back to normal. While it never came to be that way, they were able to find strength again, wanting to give everything to prevent someone else from being in their position. This drove Gracie-Leigh to dream of being a paramedic, to be able to be the first person there in an attempt to save someone's life and family from a disaster that can be defended.
This is when Gracie-Leigh became independent almost to a fault. Due to the fear of being abandoned and being a position much like her mother, she refuses to rely on others and has a difficult time finding love. She has only had two relationships, both of which ending rather explosively on the other person's end, mostly because she use to be vulnerable and lonely. She refuses to find herself in that position again, and strives to be able to do what she needs to on her own accord.
The Start of Los Santos
[
]
Gracie-Leigh has slowly been finding her home in Los Santos, having already gone on a few ride-alongs and starting to get to know quite a few members of the state. She has grown particularly close with Samuel Peep and MJ Stone and she currently considers them the two people that she can trust the most.
Return to Los Santos
[
]
After a very long break heading back home with her mother, she returned to Los Santos in a rather chipper mindset on June 12th. However, her return wasn't as happy as she had hoped for it to be. After meeting up with Samuel Peep and speaking about threw few deaths they had heard about, one being someone she felt close to, Damien Smith of the Death Dealers MC, her heart was shattered. While unaware of where his affiliation stood, she was told and believed that he was a good person, and she hated that she couldn't have given him a proper goodbye. She left a note at his memorial at Chumash Pier, and made an internal promise to herself to not up and leave again like her fathers did. She never got to go fishing with him again, and that will pain her for quite some time.
This pain continued further after the death of her friend, MJ Stone . She had been away for quite some time, stuck between healing from getting attacked by a mountain lion, and still struggling to push herself to start her path in SAEMS. At the news of his death, her mental health deteriorated even further, especially considering she promised him that she would never up and disappear like everyone else in his life. She has no way of knowing if that is how Stone felt with her absence, but the thought alone still tears her apart to this day.
The events left her rather restless at night, being overwhelmed by nightmares, and not wanting to open up to anybody about it. She is instead filling her time working as hard as she can to be a Paramedic in hopes that this won't happen again.