Jurassic World: Dominion Dominates Fandom Wikis - The Loop
Play Sound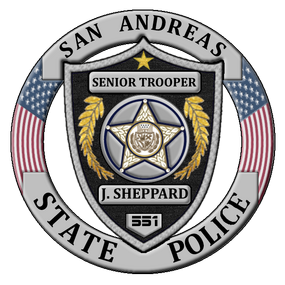 Introduction
[
]
Jack Sheppard is a Master Trooper with the San Andreas State Police.
Biography
[
]
Early Life
[
]
Jack Sheppard was born on December 10, 1977 to a Military family. As a result, he spent most of his childhood moving around a lot due to his father, a US Air Force Colonel, being posted to various locations around the country. His favourite memories as a young boy were the embellished stories his Grandfather would tell him of his days in the Vice City Police Department during the 1940's and 50s.
Unlike his grandfather, Jack never really got along with his father growing up. The stress of a kid being moved from school to school and not having any consistent friends caused him to act out in various ways, eventually falling into substance abuse by the time he hit his mid to late teens. This caused several altercations with his father, where they both ended up in both verbal and physical altercations with each other on several occasions. One day, during one of their typical screaming matches, Jack's father suddenly dropped down to the floor after suffering a major heart attack. Jack was shocked and blamed himself for his father's death, being overcome with the guilt and shame for the thing's he had done to both himself and his family. He cleaned up his act soon after, managing to graduate high school and immediately enrolling in the US Air Force Academy in an attempt to make his father's memory proud.
He graduated with excellent grades and during the following years climbed through the ranks becoming a distinguished Air Force Officer himself.
Throughout his Military Career he was involved in several Operations, many of which are classified. One such Operation involved the Helicopter he was flying being shot down, where he sustained a broken leg where he, along with his injured Co-Pilot, were left to try and crawl their way through the desert. Shortly after, they were captured by hostiles and spent several weeks in an enemy prison. Eventually, a special forces team extracted Jack and his Co-Pilot, returning them safely home. Upon arrival, doctors discovered his broken leg hadn't healed correctly while in captivity and had to perform multiple operations to correct it. While the surgery's were a success and his leg fully healed, he still suffers significant pains and aches occasionally after intense physical activity but has learnt to live with it.
Marriage, Family Life and Tragedy
[
]
In 2005 Jack married his long time girlfriend, Katelyn. Two years later they had a daughter named Alison. During the early years of their marriage life was happy. Jack tried his best to remain with the same postings for as long as possible and tried to minimise his time out of the country. He would always check in and make sure things were well with his family whom he loved more then anything, not wanting to repeat the mistakes of his own childhood.
In early 2017, shortly after being transferred to Fort Zancudo in San Andreas, tragedy struck the Sheppard Family. Not long settled into their new home, Jack had briefly stepped outside the house to grab something from the yard. A loud gunshot was heard from within the house where his daughter had been playing. Rushing inside, he found ten year old Alison lying dead besides his own personal pistol, which she had found and been playing with, accidentally shooting herself.
Following this tragic incident, Katelyn left Jack, filing for divorce soon after.
Jack, whom had just made rank of Full Bird Colonel (the same rank his father was), resigned from the Air Force, feeling unable to continue his career while dealing with so much grief.
He spent the next three years living a simple, lonely, quiet life in Blaine County, spending his days fishing, hiking, camping and relaxing, dealing with the guilt of what happened to his daughter.
Law Enforcement Career
[
]
After a lengthy time retired from the Air Force, Jack had begun to feel he needed something else in his life again, something to drive him forward and out of his pit of despair. Seeing a recruitment poster for Law Enforcement needed in the state of San Andreas, Jack was immediately filled with memories of his Grandfather's stories in the VCPD and put in an application, eventually being accepted in January, 2020.