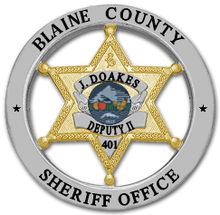 Introduction
[
]
James Doakes is the former Chief of the Los Santos Police Department and current Deputy for the Blaine County Sheriff's Office. As the majority of those in his profession, you will see James Doakes crack a few jokes, patronize criminals for their stupidity and be on the lookout for those who look to go against the law.
Biography
[
]
Career
[
]
James originally held the position of Chief of Police in the LSPD but had to step down due to his time commitments; he had since transferred to the BCSO as a Deputy. After he took his leave, Gunnar Mason was selected as Chief of Police. Since the defunding and consolidation of the LSPD with the BCSO to form the SASP, James was moved to the rank of Senior Trooper.
As of July 1st, the San Andreas State Police has split into three separate departments, causing all former troopers to be reassigned to different departments.
Doakes was shot in a gang drive by and critically injured on the 4th October 2019 - He remains in critical condition