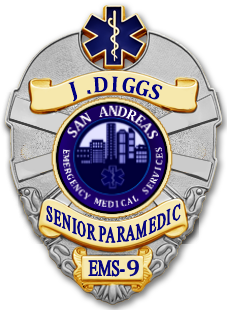 Introduction
[
]
Jason Diggs is a former tenured paramedic and Head Chief of San Andreas Emergency Medical Services. He was formerly the highest-ranking member of the Los Santos Fire & Rescue battalion.
Biography
[
]
Character Background
[
]
Jason is a former Senior Paramedic and Field Training Officer (FTO) for SAFR (San Andreas Fire & Rescue). Diggs has experience working in other cities and had previous experience training to be a Sheriff's Deputy alongside John Thomas. After numerous promotions, Diggs eventually achieved the rank of Head Chief.