"Fuck yea safety"
―Kira Light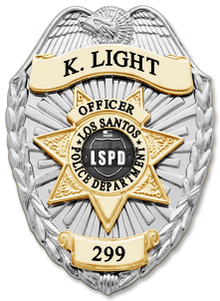 Introduction
Edit
Kira Light is a former officer of the Los Santos Police Department. She is a very caring and compassionate person, and often gives people the benefit of the doubt.
Biography
Edit
When Kira came to Los Santos she had one thing in mind Join the San Andreas State Police. Kira was accepted into the academy and promptly passed to become a cadet. Kira frequently was teamed up with Trooper Kurt Leonard as her FTO (Field Training Officer) and the two became good friends.
Shortly after Becoming a cadet Kira had to take a leave of absence due to medical problems. As of August 2018 Kira has returned to duty.
On October 9th 2018 Kira was pulled into Director Johnny Dazzler's office and was promoted to a full trooper.
In March 2019 Kira gained the attention of Nea Rosenberg and has shown a return of interest. On April 3rd 2019 Kira and Nea went on a "Date" of sorts that went extremely well.
As of July 1st, the San Andreas State Police has split into three separate departments, causing all former troopers to be reassigned to different departments.
Kira hasnt return to the city of Los Santos since she has decided to move away to a different county and continue to follow her dreams to still be a police officer.
Community content is available under
CC-BY-SA
unless otherwise noted.