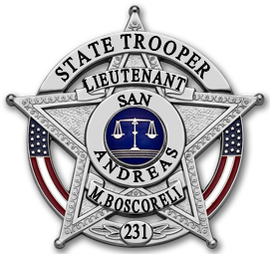 Introduction
Edit
Mike Boscoreli, better known as Sergeant Boscoreli or sometimes just "Bosco", is a state trooper who works for the San Andreas State Police. 
Biography
Edit
On August 2nd, 2017 Officer Mike Boscoreli was put on administrative leave pending an investigation by the Internal Affairs Bureau. Following an arrest made on July 31st, 2017 he was accused of violating a civilian's rights leading to a false arrest. On August 10th the suspension was lifted.
As of November 10, 2018, he was promoted to Lieutenant.