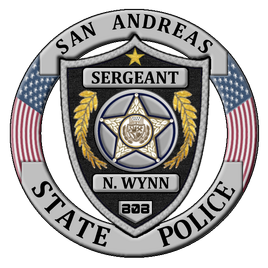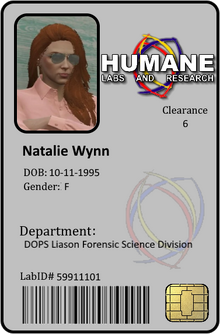 Introduction
[
]
Natalie Wynn was a Master Trooper with the San Andreas State Police.
Biography
[
]
Childhood
[
]
Natalie Mae Wynn was born on October 11, 1995 in Matthews, NC. She's the daughter of the late Chief Jason Wynn of Mecklenburg County Police Department and Allison Wynn. She is the middle child between her older sister, Alyssa Wynn, and her younger brother, Nathan Wynn.  Her mother, Allison, passed away when Natalie was three years old from suicide due to neglecting postpartum depression symptoms after the birth of Nathan. Despite growing up without her mother, Natalie would still consider that she had a great childhood with the amount of support and love she received from her father, grandparents and Mecklenburg County Police Department. During her schooling she took her studies seriously and was involved with many extra-curricular activities such as Speech and Debate Club, Newspaper, Student Government and Softball. She spent many summers staying with her grandparents where her father grew up, Oak Island NC.
College
[
]
Once graduating high-school, she was accepted to Clemson University in Clemson, South Carolina. She declared her major in Criminal Justice with a focus in Forensic Sciences. While she stayed on top of her studies during her college career, she also wasn't a stranger to the underground rave/EDM scene. Since Natalie was a few hours away from her father's strict parenting, she embraced and allowed herself to be curious and discover various substances and lifestyles. While she typically only smoked weed - she would also use MDMA, LSD and even Cocaine on occasion. During this time period, she met Colin Dax - her now ex-fiance.
The only thing the two had in common was their passion for the music scene, which is how they met. Colin is a 29 year old Navy veteran who was honorably discharged for medical injury and struggled adjusting back to a civilian lifestyle. Their relationship progressed enough for her to continue her studies while Colin maintained an income by working underneath the table as a bouncer while pushing LSD during said events. As typical Natalie fashion, she looked past his faults until he actively tried pushing her away from working towards a career of Law Enforcement. Colin was cleverly charismatic and able to fool people into believing his 'innocence', even Natalie's father. On the day of her college graduation, he gave Natalie an ultimatum to choose either him or a career as a LEO.
Police Cadet
[
]
Two months later, she began academy through Mecklenburg County Police Department after moving back home to Charlotte, NC. In December 2017, she graduated second in her class and began her cadet phase. Natalie was in-bliss because most of her FTOs were members of the force she has considered as family to her since she was a child as well as working in her father's department.
October 11th, 2018
[
]
Natalie was at a traffic-stop near UNC-Charlotte campus when dispatch relayed a 10-13 for Chief Wynn near the south-east side of Charlotte. Chief Jason Wynn decided to take a break from regular office-duty one day and wanted to patrol. He responded to a 10-90 in the area where he was first on scene. Chief Wynn negotiated with them to release the hostage even though they didn't see or hear any signs of life of the individual. The three suspects tricked Chief Wynn when retrieving the hostage to then realize that one never existed - he then became the targeted hostage. Officers on scene described an active hostage-situation involving the Chief and negotiations were taking place until Natalie arrived, as requested. Natalie tried rushing to his location but traffic was backed-up on I-85 and took her 25 minutes to get on scene. As Natalie arrived on scene, the suspects were already aggravated with the negotiator and as she approached to try and assist - shots fired. After less than a minute - one suspect was detained, one was deceased from GSW's, and the final one was able to escape the area. During that minute, Natalie held her father as he painfully struggled and succumbed to the single GSW - on her 23rd birthday. On October 12th, Natalie was placed on administrative leave where she began the year long process of grieving the loss of her best friend and accepting that both of her parents being gone.
Los Santos Police Department
[
]
After a year of grieving, destruction, acceptance, growth and renewal - Natalie was cleared and allowed to go back to her duties. Her father's partner stepped in as a temporary Chief of Police and had a conversation with her, asking how can he assist with her healing as she prepares to come back. Natalie struggled with the thought of coming back to her father's district because everything made her think of him. He encouraged her to take a leap of faith and move away while also reassuring she will always have a position waiting for her if she ever wanted to return home. 
Three weeks later, she moved and was adjusting to Los Santos before meeting with Sheriff Mackenzie Hayes to hand over her application. 
On December 1st, 2019 - 808 went 10-41 for the first time.