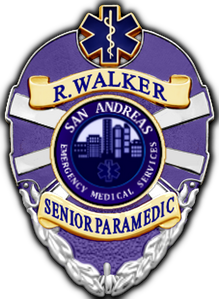 Introduction
[
]
Ronnie Walker is a Senior Paramedic of the San Andreas Emergency Medical Services and a former nurse.
Biography
[
]
Ronnie is a shy nurse from New Orleans, Louisiana who followed her pharmacist boyfriend to Los Santos. He promptly ran off with a stripper named 'Felony' who took all his money and got him fired for stealing narcotics for her. Ronnie works as a nurse at Mount Zonah on the weekends and moonlights as a paramedic during the week to pay for Med school (which, unlike Felony, she is actually attending). After that fiasco, Ronnie had no intention of getting into another relationship but was 'dazzled' by an LEO named Johnny Dazzler with whom she had a brief affair. She married Luke Walker on August 20, 2018.
Ronnie stepped down from her Deputy Chief position on January 5, 2019.
OOC
[
]
Sadly On May 17, 2020 it was announced that Jakers had passed away on February 5th 2020. She will be deeply missed by her Family RP friends and the community.