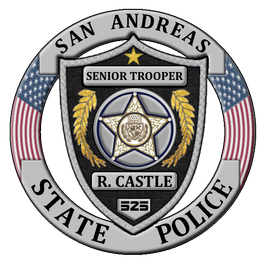 Introduction
[
]
Ryan Castle is a Senior Trooper of the San Andreas State Police.
Biography
[
]
Born August 4, 1993, he grew up in a poor family. He did average in school and struggled through his youth, having a few run-in's with law enforcement for petty things. On one occasion he was caught by an officer after attempting to steal from a local grocery store where he grew up. The officer set him on the course for his future career when he sat with him and got Ryan to open up about why he was stealing food. Officer Reynolds kept tabs on Ryan for many years, all through his youth and up into his high school years. Officer Reynolds lost his life in the line of duty from a traffic accident on half way through Ryan's Senior year.
When Ryan graduated from school, he applied to the Police Academy where he grew up, but didn't have the test scores to get in. He didn't give up though, he worked odd jobs and put himself through additional schooling and found his passion for drawing. After moving to Los Santos later in 2018 he applied to be a part of the San Andreas Highway Patrol, working odd jobs until he heard back. Half way through 2019 he heard back and finally got his dreams underway.
On January 28, 2020 Castle made the rank of Officer I and finally reached his long held goal of being an Officer.
Work History
[
]
He hit the ground running in his new career, putting in for as many hours as he could manage to get clocked in. On February 17th 2020, Luke Walker was riding his motorbike when Castle failed to properly clear an intersection striking Walker and sending him flying into the pavement head first without any protective gear on. Walker was rushed to Pillbox Hill Medical Center by Castle in critical condition and placed into a medically induced coma. Castle was placed on Administrative Leave pending the outcome of Walker's condition, facing possible Vehicular Manslaughter charges and the end of his career as an Officer.
As of March 13, 2020, Castle was cleared again for active duty after Walker was discharged from the hospital, while still in recovery, he was out of the woods. Castle met with Chief MacReady and Lt. Taylor to discuss his returning to duty and he was placed on active duty once more with an understanding that he would be under review for the next month until he could demonstrate that he had learned from the experience.