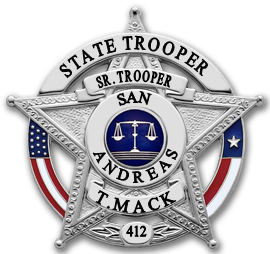 Introduction
[
]
T.J. Mack was a Senior Trooper for the San Andreas State Police and a former Senior Deputy of the BCSO.
Biography
[
]
Career
[
]
On November 20th, 2017, after Sheriff Bayo and Captain Mason made Mack run up a mountain, Captain Mason informed Mack that he'd be promoted to Deputy from Cadet of the BCSO.
On January 3rd, 2018, Sheriff Bayo officially Deputized Mack to Deputy. 
As of March 30th, 2018, after the BCSO was defunded and consolidated with the LSPD to form the SASP, TJ Mack is currently an FTO Senior Trooper.
As of July 1st, the San Andreas State Police has split into three separate departments, causing all former troopers to be reassigned to different departments, and/or removed entirely.