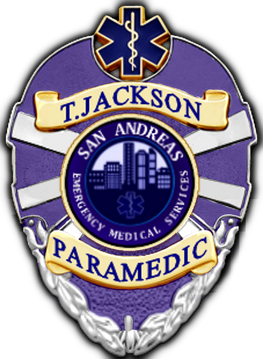 Introduction
[
]
TJ Jackson has been a citizen of San Andreas since October 2017 and was the deputy chief for the San Andreas Emergency Medical Services.
Biography
[
]
TJ Jackson was a 10 year veteran of the Liberty City Fire Department (FDLC) when we went on vacation to San Andreas to visit a friend from college and immediately fell in love with the lifestyle. Deciding that he wanted a fresh start and a place he could really enjoy the outdoors and beautiful weather, TJ packed everything up, resigned from The FDLC and headed west. While relocating, TJ decided that he wanted to take a break from Fire and EMS. Having been burnt out on the abuse of the Fire/EMS system but still having the desire to help people, law enforcement seemed like the ideal career path. TJ arrived and settled in San Andreas in October of 2017 and spent a few months exploring the city and getting to know his neighbors. In January 2018, TJ began working as a taxi driver but has started his own unofficial side business delivering food, repair kits, and other convenience supplies from his cab.
One day while riding his bike, TJ bumped into a local San Andreas Emergency Medical Services paramedic on duty and they began chatting. TJ decided that he still had the "EMS bug" and in June 2018 he sat down to fill out an application for San Andreas EMS. In July, he received a letter stating that he had successfully completed the hiring process and was to report to the academy. Given TJ's previous experience, he excelled through the academy and FTO process. Now you can find him riding around the state helping those in need.