Jurassic World: Dominion Dominates Fandom Wikis - The Loop
Play Sound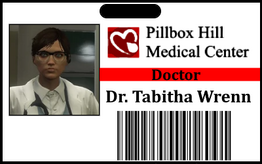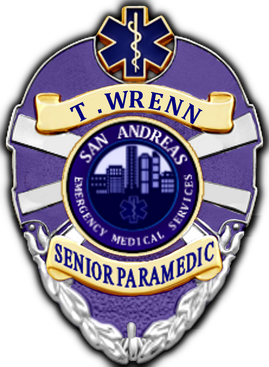 Introduction
[
]
Tabitha Miller (formerly Tabitha Wrenn) was a doctor at Pillbox Hill Medical Center and is now a paramedic for the San Andreas Emergency Medical Services.
Biography
[
]
Tabitha grew up in South Beloit, Illinois with her two siblings and father having lost her mother to cancer at a young age. Growing up in a single parent household her older brother Cole worked part time and helped to keep the household running while there father worked. Growing up in the shadow of Blackhawk farms raceway most of the free time Cole and Tabitha had with their father was spent at the paddock four wheeling and racing in the CCS Cup series. Competing in motorcycle racing was often when Tabitha had the most fun in her younger days - she could lose herself in the adrenaline rush and focus solely on racing to forget the struggles of home. When she was 17 during one of the trips to Forth Worth for a race tragedy struck when Cole was shot and killed after catching someone trying to rob the trailer container his and Tabitha's motorcycles. Having heard the gunshots Tabitha was the first to find him and call from help. The sucking gsws provided to be fatal due to a delayed response time. It was from that point forward Tabitha took up the mantle of keeping the family together giving up on racing to focus instead on helping her father and sister. Her newfound drive to help others led her towards the medical field studying to specialize in trauma so she could help others who got hurt like her brother. While she works to help others, she often has issues with taking care of herself often forgetting to eat and not work long shifts along with having a habit of still being an adrenaline junkie from her racing days. Having trauma patients rushed in often gave her an adrenaline rush allowing her to focus only on her work. When not at work she can often be found triathlon training, parachuting, off-roading, or in her motorcycle chasing her next adrenaline rush.
She completed her medical residency at Advocate Trinity hospital where she became a Gunshot wound specialist.
The On_Duty profile picture was created by brix_catinsag7
Gallery
[
]