Jurassic World: Dominion Dominates Fandom Wikis - The Loop
Play Sound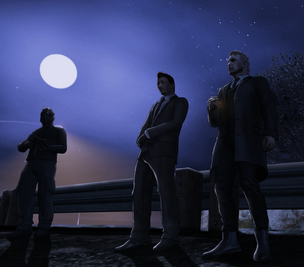 Introduction 
[
]
The Dynasty is the only importer of illegal firearms in the state of Los Santos. It was presumably run by Madam Ming and Yu-Jen Gwisin, two shadowy figures who are not often seen in the city, but they've since handed control over to Leon Church.
Biography 
[
]
The Dynasty is an organization purposefully shrouded in secrecy and rumors. Not much is known about the organization itself other than that is had overseas connections from which they import illegal guns and other weapons. They are Chinese/Korean in origin but work closely with Oshima Kozoku, a Japanese organization led by Haruhiko Oshima.
They host gun deals at varying locations, commonly facilitated by The Tribe and Baada Ka, who the Dynasty employs as one of their smaller gun dealers. It is presumed that this is the only time they expose themselves as a group to others.
Attire
[
]
During regular meetings, members of the Dynasty tend to dress formally in all-black suits. However, during gun deals, the lower members of the Dynasty don all black clothing and a red Oni mask to conceal their identities.
Following Leon Church's takeover of control of the Dynasty, members of the Dynasty will typically dress in black suits and ties with red dress shirts with the same red Oni mask. This can be seen during their masquerades. During gun deals and general operations, however, members will don black tactical gear along with a mask compiled of a balaclava, ballistic mask, and a pair of goggles.
Deal with Church
[
]
On May 21st, 2018, Oshima in connection with the Dynasty brought defense attorney Leon Church out to a hangar to offer him a deal. He would have to pay the import/export dues to The Council in the place of the actual members of the Dynasty, preserving their secrecy, and have all of the members on retainer free of charge. In return, he would be paid a bonus for every time he had to deal with the Council. Leon accepted the deal on May 24th, exactly 3 days after the offer was given.
Transfer of Leadership
[
]
In November, after months of grooming and preparation, leadership of the Dynasty was handed over to Leon Church by Yu-Jen Gwisin. It was during this transfer and ensuing gun deal with Luca Gambino that word reached Yu-Jen about the quiet passing of Madam Ming. With full control, Leon dubbed himself "Shepherd" in reference to question about wolves and sheep that Yu-Jen and Ming asked him when he first joined the Dynasty and with all of Los Santos' branch of the Dynasty under his control, Shepherd went forth to pioneer a new era of a Dynasty of better covert operation and heightened efficiency.
Members
[
]