Jurassic World: Dominion Dominates Fandom Wikis - The Loop
Play Sound
Introduction
[
]
Theodora Quinn was a Senior Trooper with the San Andreas State Police. She did her academy on April 4th, 2020. She became a full Trooper on June 28th, 2020.
Backstory / Current Day
[
]
Theo was born and raised in Las Venturas. She grew up in an orphanage but was adopted at the age of 2 by two caring, loving foster dads by the names of Stephen and Tyler Quinn. She also had an older brother that the two adopted named Spencer Quinn. The 4 of them stayed in a fairly nice home near the Las Venturas strip. Stephen worked as a firefighter while Tyler was a professional photographer who often traveled to various places around the world. Theo was given her name by her adoptive parents but has no information about her birth parents or her birth name.
Theo was a decent student in school. She always aspired to one day be an officer but she also very much enjoyed being creative. One of her main hobbies she partook in was painting and she tried to paint as often as she could as a stress relieving activity. She loved night life, especially the night life in Las Venturas. She frequented a small hole in the wall bar that does slam poetry and live band performances. Growing up, Spencer and Theo were always incredibly close. They continued to be very close to this day. Spencer was always protective and looking out for Theo. Theo would often get bullied when she was younger and Spencer would end up getting suspended in school for beating up the bullies for her. The two would also go get pedicures together whenever Theo was dealing with a breakup or was having a bad day.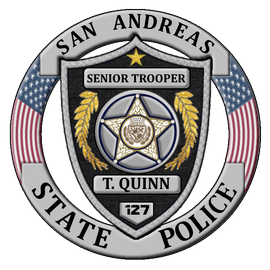 Theo often enjoyed nightlife and parties and would occasionally partake in multiple kinds of party drugs, mostly different kinds of hallucinogens. She had a friend group who would also partake in these different kinds of drugs, some more extreme than others. On June 3rd, 2012, Theo was attending a party with some friends from her high school. Theo arrived to the party along with some of her friends, one being one of her best friends named Darren. Theo and Darren were incredibly close and often went to parties together. In fact, they did almost everything together. On the night of this party, Darren and Theo had both taken LSD before entering the party but little did Theo know, Darren had already taken a large amount briefly before. They continued into the party and enjoyed themselves. Theo began to notice Darren was acting very strange and off. He was having an incredibly bad trip and was convinced things were after him. Theo attempted to calm him down but Darren was convinced he was losing his mind. At one point, Theo lost Darren as he ran off and she began to look everywhere for him. Later on at the party, a gunshot rang out throughout the party and everything turned into absolute chaos. Darren had found a gun laying around the party and ended up shooting himself because he had such a bad trip and believed the way to make the things stop attacking him would be to hurt himself in the process. Theo had to watch Darren be carried out by the medical team and was completely frozen. She managed to have a friend call Spencer to come pick her up from the party that night and she wasn't really the same after that.
She decided to go completely clean from any and all drugs. Theo never really reacted to death like normal people, she just kind of freezes and gets quiet but doesn't cry. Some people thought it was strange but she didn't think much of it. Theo has been clean since that night and actively tries to reach out to people who are struggling with drugs in order to help them out. She has researched multiple ways on how to aid overdoses or hangovers or coming down from drugs to help out others who are struggling. Other than the dark outcome that can result from drug usage, Theo is usually pretty relaxed when it comes to drugs. She draws the line when someone is killing themselves or ruining their lives over it and that's when she stepped in to help.
Theo always had multiple goals and passions and aspired to be many things. After the incident with Darren, she fully committed to wanting to become a police officer and dedicated her time to doing that. She still enjoyed nightlife and parties but would often become the designated driver. While exploring Las Venturas' night life, she met someone by the name of Blaire Carter, who shared the same passion to be a police officer as she did. The two connected instantly and became very close friends. Blaire recently moved out of Las Venturas to become a cop over in Los Santos while Theo remained in Las Venturas. While Theo had planned on attending academy for the LVPD, she was given the unfortunate news of Blaire passing in the line of duty while in Los Santos. Theo requested to transfer over to Los Santos and attend academy for the LSPD instead. She arrived in Los Santos on March 9th, 2020 and had begun to explore the city.