"Get fucked idiot"
―Tony Reeves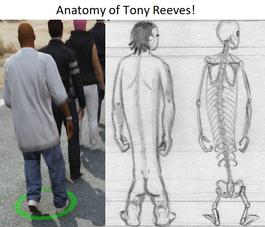 Introduction
[
]
Tony Reeves was a resident of Los Santos' south side. Other than being made fun of for his appearance at times, Tony was your average street thug with a dash of something else. A capable driver and foot soldier, Tony regularly did odd jobs and committed crimes around the city including street racing, collecting taxes, and cooking crack. He was the right hand man of The Grove Street Families current leader, Warren Bautista.
Biography
[
]
An infamous gang member of the CCG, Tony was notorious for his small arms and he later adopted the name "T-Rex Tony".
Entrance to Grove
[
]
After a long time in the CCG and watching as it's presence slowly deteriorated, Tony became good friends with several members of The Grove Street Family, especially its second-in-command Archie Cooper who he would regularly street race against. Slowly given trust and work from Grove, Tony began doing jobs for the gang including collecting taxes for the chop shop and being a look out when needed. In early April, after partying with Archie and others, he was offered the opportunity to join Grove in which Tony accepted.
On April 9, 2019 Tony Reeves was officially recruited into The Grove Street Family.