Introduction
Edit
The Vanilla Unicorn (VU) is a popular strip club and bar on the corner of Elgin Avenue and Innocence Boulevard that was formerly run by Candy Moist and Skeeter Fontaine, now under the ownership of Nancy Flutterbottom.
Biography
Edit
The Vanilla Unicorn was the most active strip club in Los Santos, having an event at least once a week as well as hosting an amateur dancer's night on Tuesdays. Civilians, police, and gang members alike flocked to the club for its events. To enter, a pat-down was required by security, which was SecuroServ until a fight between Candy Moist and Freddy Price ended any relationship between them.
Renovations
Edit
As of late 2017, the strip club has been shut down for renovations. All of the activities at the strip club have ceased since then. It was deemed a safety hazard for the exotic dancers at the club due to having to run across Innocence Boulevard to change clothes at the store between songs.
New Ownership
Edit
Nancy started the process of acquiring the club in late 2018 and finalized the purchase on February 13, 2019. She hired The Phoenix Corporation to run security, although Jeffrey Connors told her that someone else had already paid him to do so.
Former Staff
Edit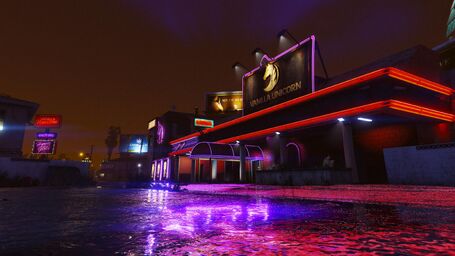 Community content is available under
CC-BY-SA
unless otherwise noted.