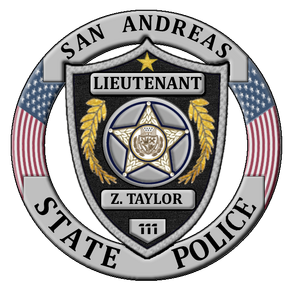 Introduction
Biography
Youth and Military
Born and raised in Los Santos, Zhane spent most of his summers in Las Venturas with his uncle Jerry and his younger cousin, Adam, learning how to work on motorcycles and classic cars. While his father and uncle were both police officers, after high school Zhane instead joined the military. Signing up in the year 2000, Zhane attended basic training at Fort Jackson, South Carolina and received further training to drive transport trucks and other vehicles at Fort Lee, Virginia. He was assigned to the 1st Brigade, 3rd Infantry Division at Fort Stewart, Georgia after graduation.
After September 11, 2001, Zhane was filled with conflict, wanting to support his country but concerned for what this would mean for his new brothers in arms. It wasn't until early 2003 that his division was deployed to Kuwait for the invasion of Iraq. Zhane drove convoys for the duration until the brigade took Baghdad. The campaign was difficult and brutal for truck drivers because the vast majority of transport vehicles at the time were unarmored and IEDs were quickly becoming one of the weapons of choice in the conflict. After being redeployed home in September 2003, Zhane applied and was accepted to become a flight warrant officer, out of a desire to escape the risks presented to ground convoys.
After attending Warrant Officer Candidate School at Fort Rucker, Alabama, he then received training to fly Chinook transport helicopters. Upon graduation near the end of 2004, he was assigned to the Combat Aviation Brigade of the 3rd Infantry Division back at Ft. Stewart. His division was deployed again to Iraq for Operation Iraqi Freedom in 2005, where he flew Chinooks for the duration, and was promoted to Chief Warrant Officer 2 during this tour. He was redeployed back to Ft. Stewart in January 2006, where he was reassigned to 3ID Division Headquarters as part of the aviation liaison to the division.
In 2007, Zhane was deployed to Iraq for a third tour, and was headquartered in Baghdad during a time when getting around the Green Zone required armored ground convoys. During a routine trip across the city, his convoy was hit by an IED attack, in which a large piece of metal shrapnel struck him in the right upper thigh, embedding itself to the bone and very nearly amputating his leg. He was airlifted to a Green Zone hospital and eventually transported to Landstuhl Regional Medical Center in Germany. After a series of surgeries, he was transported to Walter Reed Army Medical Center in Maryland for rehabilitation. In mid 2008 Zhane was medically discharged, and awarded the Purple Heart.
Following his departure from the military Zhane lived in Georgia, having become fond of the area during his time at Fort Stewart. After spending nearly a decade as a freelance consultant for several private security companies, Zhane finally moved home to Los Santos.
Return to Los Santos
Looking for a change of career, he became a tow driver for the city, and was quickly hired by the auto shop Street Dreams, putting his mechanical education to use in a civilian role. After spending most of a year working at the shop, Zhane became disillusioned with his work and his life in Los Santos, having realized that crime and violence was an inescapable reality of the city he used to call home. When the shop itself became the target of gang violence, Zhane once again left Los Santos and returned to Georgia, where he spent most of a year working various security jobs, but he wasn't satisfied. Feeling that he couldn't abandon his home town, he returned home again - this time signing up for police academy at the age of 38, finally following in his family's footsteps.
Police Career
As of July 1st, the San Andreas State Police has split into three separate departments, causing all former troopers to be reassigned to different departments.
On October 19, 2019, Taylor was promoted to Officer 2nd Class. On January 27, 2020, Taylor was promoted to Officer 3rd Class.
On February 23rd 2020, Taylor was Promoted to Lieutenant. With the merge back to the SASP, he became a sergeant.